True Craftsmanship for Lasting Quality
Marine + Residential Custom Canvas
At Compass Canvas, we are sailors, mariners, fishermen, and craftsmen. That is why we know that no two projects are the same, like no two days on the water are the same. Every boat is unique, every person is unique, and therefore every vessel has a different goal. We know that small details make a big difference, which is why we sew each product by hand. We work with our customers to design each canvas specifically for their needs.
Compass Canvas specializes in the craftsmanship of premium custom canvases, boat covers, dodgers, flooring, residential, and repairs. We can design anything from a bimini, shade sail, or awning for all your marine needs in the Bay Area. We craft residential and industrial applications too. Anything you can think up that involves a needle and thread, we can work with you on the design and build of the product.
At Compass Canvas, we use the highest quality materials to ensure a longer lasting product lifetime. Our canvases are made with SolarFix, a Teflon thread that has a lifetime guarantee. This means that the stitching will never rot or need to be replaced, greatly extending the life of your canvas projects, and protecting your investment. Our marine upholstery is made with Sunbrella, a durable marine grade fabric with a 10 year guarantee. Compass Canvas stands behind our products, if you have any problems please give us a call and we will take care of it within reason. Our goal is for every customer to walk away satisfied with the perfectly crafted canvas.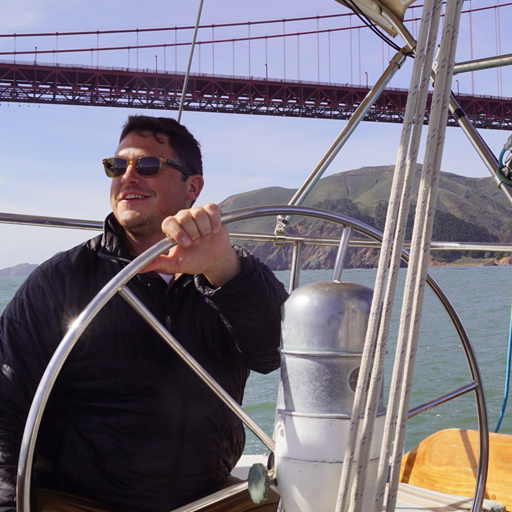 Nick Leal, Owner, Craftsman, Sailor
When a craftsman puts their hands to a material, the value is not in the finished product; the value is in the part of their life that they have dedicated to developing the knowledge and skills required to make the product. 
Nick Leal has done just that, dedicated himself to the practice of perfecting his products. Nick has been around canvas most of his life. He learned his craft from his father, who owned a canvas shop in Wisconsin, where Nick would work during the summers. Nick was always drawn to the boating industry, he grew up on fishing boats in Wisconsin and then started sailing when he moved to California. Compass Canvas shop is located in Point Richmond, but we supply products to marinas all over the Bay Area; including Berkeley, Sausalito, Alameda, Oakland, San Francisco, San Rafael, Mill Valley, and Emeryville.
 This is what shaped Compass Canvas into the highest quality canvas shop in the Bay Area; dedication, commitment, and passion from a craftsman, sailor and mariner himself.
Get a custom quote today!
Our customers are saying…
Hannah



"Great work, I am very happy with the final product. It was done timely and well executed throughout!"



2020-05-28T00:24:34+00:00
"Great work, I am very happy with the final product. It was done timely and well executed throughout!"
https://compass-canvas.com/testimonials/hannah/
Anneli



"Great craftsmanship!! Best design and quality in the Bay Area!!!!"



2020-05-28T00:26:19+00:00
"Great craftsmanship!! Best design and quality in the Bay Area!!!!"
https://compass-canvas.com/testimonials/anneli/
Jonathan, Wanderment



"Nick built us a beautiful dodger for our Oceanis 51.1. He delivered exactly what we discussed and on time. The quality of his work and attention to detail was excellent. He and the team at Compass Canvas are truly craftsmen."



2020-05-28T00:25:17+00:00
"Nick built us a beautiful dodger for our Oceanis 51.1. He delivered exactly what we discussed and on time. The quality of his work and attention to detail was excellent. He and the team at Compass Canvas are truly craftsmen."
https://compass-canvas.com/testimonials/jonathan-wanderment/
Harley



"I got a mainsail cover made by Compass Canvas that turned out great. This is the ideal time to get some canvas work done. Nick matched the price and started on the job right away. The cover fits over my Dutchman system and looks great!"



2020-05-28T00:25:52+00:00
"I got a mainsail cover made by Compass Canvas that turned out great. This is the ideal time to get some canvas work done. Nick matched the price and started on the job right away. The cover fits over my Dutchman system and looks great!"
https://compass-canvas.com/testimonials/harley/